Dangerous Dining For The Slightly Bored
Hi, there! Of all the places on Vice-President Gore's vast Information Superhighway where you might find yourself, do you think I'll agree that your ending up here is no accident?

Don't be afraid. I'm Bob Davner, Central Suppository Inventory Manager for SPOMCO, Dick-Spa Division. By day, I stuff my slightly overweight, balding caucasian body into a white Sears shirt with a slightly melted plastic name tag, red tie (Greta's idea), and black Sans-a-belt slacks. Piloting the Esquirt (Uncle Donny calls it that because he can barely fit inside it!) on a 17.6-mile journey to the plant, I plot a day's worth of suppository intrigue, get that job done and head home to a night of meat, Maalox and margaritas with the family.

I know. "Dork," you're thinking.

But by day (a different one), I am the Chief Chef of The Sneaky Picnic, a clandestine organization of semi-adventurous culinary pioneers (we prefer to call ourselves Pic-O-Nauts) who only become truly alive when we Eat Where We Shouldn't.

Now you can be afraid. Because now is the moment you can choose to click and view a complimentary cover from our award-free publication (each is a gif from 120k to 201k) and succumb to the temptation to join our ranks. Or just move on, pretending that our joyously secret lifestyle didn't awaken something great, yet terrible, in your very soul.
Don't be afraid. The little tiki icon fellow

who appears between the two Sneaky Picnickers on our magazine covers is Charlie, who was found at the intimidating Miramar Landfill on the first Sneaky Picnic. We were enjoying a spread of tuna sandwiches, chocolate dinosaur cupcakes and Goofy Grape punch as bulldozers smushed and rolled their stinky piles mere inches from our repast, when Charlie mysteriously and horizontally made himself known to us. Think of Charlie as the inferior spawn of the Playboy Rabbit, for he is the Checkered Tablecloth that symbolizes our Plight and our Menu.
It Is Time.
Why Don't We Do It...

In the Road?
On the Titanic?

In the Past?
---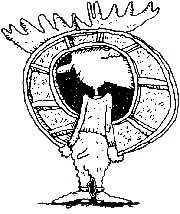 I can't eat another bite! Back to Obvious Moose!