You Send It In, They Put It On!
Contents ©2000 Obvious Moose and may not be reproduced without permission. All rights reserved.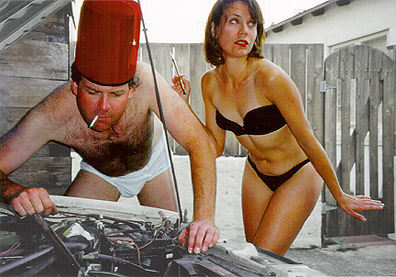 House-sitting for Frieda and Guido while they visit their beloved Aunt Winnie in a Rio hospital, longtime F&G chums Natasha and Laszlo are proud to assume F&G's I.U. duties! Looking downright upright testing the limits of a pair of traditional "tighty whities" by Fruit of the Loom, Laszlo sends a wink and a jaunty tip of his ever-present fez to Brad Majors of Osawatomie, Kansas, giddy provider of this gay garment. The svelte and mysterious Natasha sports a daringly strapless black Carnival brassiere and always-in-vogue sheer black lace Victoria's Secret panties, both provided with lusty reverence by Bryan Beller of North Hollywood, CA. But wait! What insidious gremlin could be fouling up Natasha and Laszlo's much-anticipated Sunday drive? Our leggy Laz spies a cottony clue!

---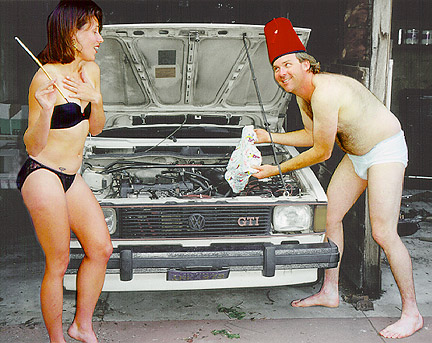 A few hushed moments of determined digital probing in and around the air cleaner duct reveals the problem-- a pair of vintage 1989 California Raisin boxers, undoubtedly stashed there by Guido during the Great Underwear Shortage of '93. Nasty, nasty Guido! Laszlo proffers the offending underattire to an obviously relieved and adoring Natasha. "They'll still make great wearin'!" Laszlo salivates. Natasha makes a mental note to make sure it's she who does the wearin' when that magic moment arrives!

---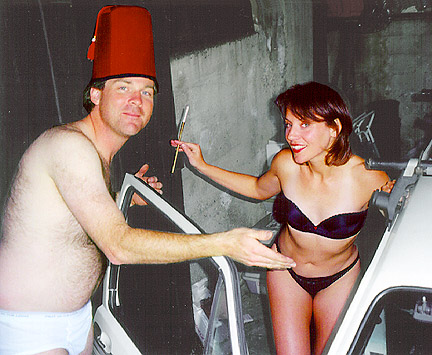 Never skimpy on self-confidence to begin with, Laszlo's manly pride surges to new lengths as he gallantly guides his majestic gem into the carriage that will soon become their own personal magic carpet. This will be a Sunday outing like no other, an adventure teeming with possibilites. What shall it be? Perhaps a no-holds-barred underwear orgy at Ross Dress-For-Less; a lazy underclad brunch for two at Arby;'s, or just a romantic driveabout with the top down! Decency demands that the remainder of our delightful duo's day remain a mystery. Au revoir, Natasha and Laszlo! Au revoir!

---
Celebrity Underpants Alert!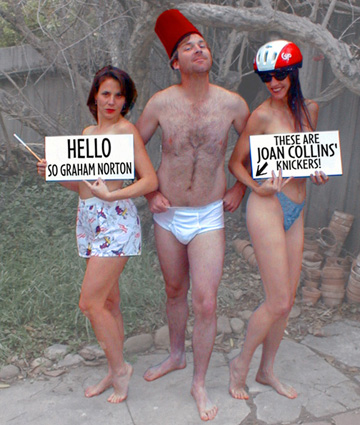 The barrage of undergarments showered upon Frieda & Guido and Natasha & Laszlo by thousands of cyber-fans is now a routine part of their daily lives. But it's admittedly a rather special circonstance des underpants when someone even more famous and delectable than our semi-clad heroes admiringly deigns to contribute to The Cause. So special, in fact, that Laszlo has thrown the "new undies only, please" rule to the four winds so that he might rapturously don this magical, unwashed celebrity treasure.
And now, Natasha, Laszlo and a fully recovered Aunt Winnie (who bicycled up from Rio just for the occasion) bask in the splendor that is Joan Collins' most unconventional underthings. Thanks and a tug of the Y-front to Edith Keeler of New York, NY and Channel 4 Television's So Graham Norton for making Laszlo's musky musings materialize.
---
If You Can Spare It, They Can Wear It!
It's fun to be a part of Frieda & Guido's Interactive Underwear page! Just imagine what enticing underthings you'd like to see your favorite cyber-models slip into. All you need to do is pick up a couple of pairs at your local underwear emporium (hey, don't forget a pair or two for yourself) and ship 'em out to:
Frieda & Guido's Interactive Underwear
c/o Obvious Moose
P.O. Box 232623
Leucadia, CA 92023-2623 USA

Frieda's a 32 C with a size 4 panty, and Guido cuts quite a figure with his 34" waist. When pressured, Natasha will admit to being a 34 B and size 6 panty. Laszlo's a 36 medium kinda guy. Bicyclin' Brazilian bombshell Aunt Winnie is nicely contained in a size 34D bra and a size 6 panty. (Psst! Here's a hint: Frieda & Guido and Natasha & Laszlo and Aunt Winnie like their underwear NEW and CLEAN!) Don't forget to mention if you want to receive credit for your contribution to the Interactive Underwear page.
Something you don't understand? Send us a brief email at info@interactiveunderwear.com!
---
---
MooseMart (A quaint online Obvious Moosendise emporium)
---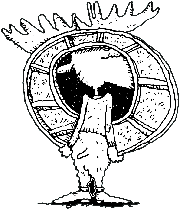 Back to Obvious Moose.