Karla Taite's Recording Studio!
In August my brother and I drove up to Tarzana, CA, where Karla Taite's recording studio is. I can tell you that she is recording a new album! Here we are (Benny on the right) outside of the studio door to Silver Spur Recording Studios. We could here some of that new Karla Taite music, but it was the same part over and over again. It reminded me a little of the middle part of "Dry Up" from Spite, but much scarier sounding.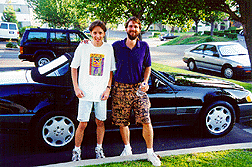 We didn't get to talk with Karla (would she remember me from the San Diego concert? Now I will never know) but we got there in time to see her drive up with her manager in this car. Must be nice! She was very beautiful like always, and carrying a black guitar case. Her manager was talking on the phone even outside of the car. That's how we knew he was the manager.
After a little while a security guard asked what we were doing. He was not mean or anything, but we decided to shine him on and drive to Tower on Sunset Blvd., except we got lost and ended up in Woodland!