Questions About Karla Taite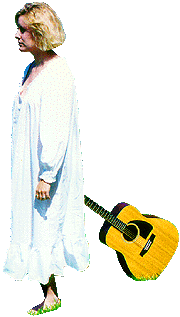 ---
Question?
Jerome,

I just wanted you to know I think you're a really cool guy. I have some great KT memories to share, including the time I saw her at an "It's A Grind" in Agrestic. She ordered a Medium Non-Fat, Sugar-Free, Vanilla Latte with an add-shot. I wanted to say something to her, to thank her for all the great music and all, but I chickened out. I probably would have said something lame and been even more disappointed than I am for NOT saying anything.

Do you have any advice for when I might see her again out in public (yeah, right)? I wish I was like you and knew exactly what to say. Anyway, maybe I'll see you at a coffee shop someday. I just hope I have the courage to say "hello"!!!

Your admirer (not in a gay way per se, just as an admirer),

Vern

p.s. do you know of any bootlegs or new KT material? I've Googled and can't find anything.

Answer!
Well, this is the first new Karla Taite question I've got in a long, long time! So, thanks! We all know that Karla took a "low profile" after that faithful day in September 2001 (10th), when her miata was punctured. Some reports say it took three weeks for her bruises to go away. Then I heard she lost most of her money with that internet car wash company (the president went to Jail, but Karla's money was all gone). So you may have seen her later than anyone, Vern! I can see why you were scared to talk, but I am not sure I would have talked either. There has been no new KT music that I know of except for that remake of "Decoy Dimple" which was used in that movie about the friendly skeleton. But we can always hope she gets busy again and makes some more of that good, good music that can only be made by herself-- Ms Karla Taite. Music which I say, is always cool and in style!
Now to see me in a coffee shop might be hard, due to my career as a Senior Hitch Inspector (SHI) in the Forrest Service, where I live with my wife Heng (from Turkey!) and our lovable learning disabled cat who is named KT jr.
---
Question?
You'll be happy to know that I've obtained several of Karla's original master tapes in mint condition. You see, I read your page online and decided to seek out Karla and convince her to play a special concert just for you, her biggest fan. I don't know, just call me sentimental, but I thought a good kid like you deserved it, seeing as how you're her biggest fan, and all. So it took me a couple of weeks but I finally tracked her down just outside of Monrovia, working at a Hot Dog on a stick store wearing one of those silly hats and everything. It was awful. I told her what I thought YOU'd want me to say, that she was wasting her life that she should be singing, not peddling fat and cholestral like a junkie on the street pushing little kids to take their first hit of crack. She obviously misunderstood cause she thought I didn't like her music or something and she started yelling at me and we kinda had a fight, I mean it wasn't really a fight cause I only hit her twice, no big. Anyway, then she left really fast in a dark green Fiat, So I had my dad's, well my step dad's car and I chased her for half the afternoon.
She was a good driver, but she thought she would lose me by taking the 210 to Ventura and making a quick cut on the cloverleaf to Woodland Hills. Hey, listen up. I used to work Cal Trans so nobody's gonna fool me on the freeways. Finally she tried to cut across four lanes of traffic off of route 27, Topanga Canyon Rd.and her car skidded sideways for about 50 feet, I thought it was just gonna skid to a stop and that everything would be okay and that I'd be able to tell her that I really just wanted to have her play a concert for a big fan of her's that I saw on the Internet, and I was gonna pay her for it and everything and that it was probably gonna be the most she'd ever made in a concert cause I was gonna pay $10,000.
But... unfortunately her car hit a pothole a started to flip. Over and over, up over an embankment wall, down the hillside and over the cliff smashing into the rocks and exploding into a huge ball of fire, that kind of looked like the mural you painted actually, and it pains me to say, was pronounced dead on arrival at Los Angeles General Hospital. I'm very sorry to have to tell you this but there is some good news. I got her address from her purse that wasn't destroyed in the fire and went to her house and broke in and got a bunch of original master tapes of all of her stuff. If you want you can come to my house and hear 'em. But now that Karla's dead I guess you won't be able to write your web page anymore. I feel just awful that I'm maybe a little responsible in a way for bringing the Karla Taite web page to an end. One things for sure, I'll miss it. --Egberto Rizzo
Answer!
At first I was excited by your so-called "question," but then I soon realized that it was all one BIG LIE. You are probably jealous that I have met her. You must have alot of spare time on your hands to spend so much time making up stupid lies. Try spending some time in the REAL WORLD. I bet that isn't even your real name.

---

Question? Dear Jerome, Here's a brain teaser for you. Do you know of a connection between Karla Taite and the new band, The Presidents of the United States? --Mike Carter Answer! Their song "Stranger" is supposed to be about her, but I am not sure that it is. Karla was never a stripper. Maybe she once dated a guy in that band or something?

---

Question? Hi there! I`m writin' from Finland! You got me interested in Karla Taite. So just to begin with what K.T. cd would you recommend me... and any advice how to get one (here in F-land?)... some mail order company maybe? So I`d be glad to get your message! Best wishes! --Matti Salminen Answer! Good question, Matti! But I don't know anything about how to get Karla Taite CDs in Europe. Maybe somebody who reads this can give Matti his or her answer, and I'll put it up here on this page.
I would say to start with "spite" and get REAL used to it before you try to tackle "tremble." But any way you go, believe me, you will find it to be well worth it. Good luck in your search! And let us know how you end up.
---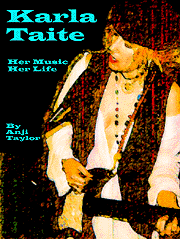 Question?
Have you read the new book about Karla Taite? I did, and I'm not sure I like her anymore. If you have read it, what's your opinion? --Laurie Pizano Answer! Yes, I have read it and I think it's almost all a bunch of crap. Sorry, but the woman who wrote it says she was Karla's roommate in the 80's when they were in college, but you get the impression they either didn't get along, or that they hardly knew each other.
I have talked to Karla Taite in person before, and she is not like that at all. Can you even imagine her doing some of the stuff in that book? I think the writer lady should see a good shrink instead of making us waste our money on her greedy actions. Just my opinion.
---
Question?
Hey, Jerome! Cool page on KT! If I had time, I'd do one, too. Question time: I found the Slack Bombers album in a used record store, but they had it behind the counter in a plastic bag for $15, just because Karla Taite was in the band. My question is, how much of the album is Karla Taite and what does it sound like? --Steve Echedevios Answer! The Slack Bombers is a record that sounds like a cross between the KT from spite days and Bon Jovi. But that's only on the three songs she wrote. The rest is just Bon Jovi-sounding without Karla, but she does this amazing solo on "Sudanese Surprise" that rocks so bad! Later, I'll put up full descriptions of all KT albums and you can find out more.
But you should probably buy it. It will only go up in price, you know.
---

Question?
Why does Karla use a bungee cord instead of a guitar strap. --Paula Marie Thompson Answer! I heard it started as an accident, but then she ended up liking how it felt when Karla played live. Next, I'm expecting other bands to copy her on MTV. Why can't people just think up their own ideas?

---

Question? Hello, Jerome. I am Sabine and am from France. (Here is a photograph of me. From your photo you look as handsome!) I have trouble with Karla Taite CDs in this country, but not with books. The KT book is now in French and many people like to read it, but I do not believe it. When did you meet with Karla Taite, and tell me what she was like to converse?--Sabine Melchoir Answer! First, let me thank you for the compliment. You look nice too. Now, about your question. The book is doing some good because it is getting Karla Taite more famous, but too bad it is almost all lies! I only hope people will read the book and forget it, but listen to KT's actual MUSIC!
I met Karla Taite and some of her band at a concert she did in San Diego this summer. She seemed happy but tired, but had time to sign my ticket. I asked her about her new record (not out yet) and she was very polite, but couldn't say much about it because she hadn't started it yet. I had the feeling she was super nice but tired. She is a special person and is no way like what you read in that book.
Now I have questions for you. How many people like Karla Taite in France? Do you know how to get her records in Finland? Write back!
---
Question?
What is the true story of a girl getting killed at Karla Taite's concert on New Year's Eve? --Sean Wilson Answer! Yes, unfortunately it is true. A 24-year-old KT fan from Memphis had some alcohol and collapsed right in the middle of the concert. No one knew she had passed away until they were cleaning up after the show. The next night, Karla dedicated a song to her. I think her family is suing the beer company now. Moral: Karla Taite's music gets you HIGH ENOUGH! You don't need any other help at a Karla Taite concert!

---

Question? Jerome, what did you think of that People Magazine story about Karla? --Martin Pstukle Answer! I am glad you asked! I'm glad the press is starting to say some good things about Karla Taite. She doesn't make a big deal about her good deeds, like her work with the armless, so people hardly know that she does great things. The Magazine seemed to take her side about the record company problems, which was sure a switch! I'm also excited about what it said about the new album (if it ever comes out!). I heard some of it through the studio door when my brother and I went to visit her last summer and you won't believe it! 1996 is Karla's best year yet, I will predict.

---

Question? Hi. I recently came across your Karla Taite web pages, and noted with interest that a Musician Magazine review by my husband, J.D. Considine, was quoted in an Associated Press article on Ms. Taite. Strangely enough, J.D. has no memory of writing about Ms. Taite's work. Well, when you review as many albums as he does, I guess things start to blur together. --Sue Trowbridge Answer! Is your husband over fourty years old? Sometimes those things happen at that age. But of all the CDs he hears and writes about, it is hard to imagine him forgetting about writing about the GREAT Karla Taite. Maybe now when (if) Ewok sends him the new album, he'll pay better attention to the FUTURE OF ALL GOOD MUSIC. Anyway, thanks for visiting the Karla Taite Fan Page!

---