Karla Taite News and Reviews
San Diego Union-Tribune, July 21, 1995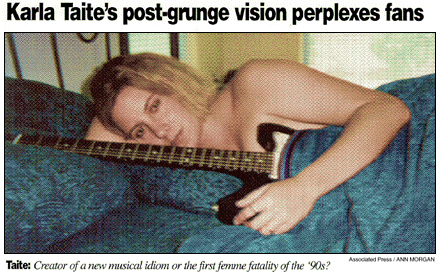 By Eric Smiley
Associated Press
One can't help but root for Karla Taite as she tilts at musical windmills. In her short career, Taite has already overcome more obstacles, both real and imagined, than many jaded showbiz veterans.
The Wisconsin-bred performer/anarchist (who performs at the North Park Theatre tomorrow night at 8:00 p.m.) first captured the eyes and ears of college and alternative radio stations with the sensual yet surly strains of "Bed," the second single from her 1992 debut effort, spite. The now- infamous Newsweek profile that portrayed a blissed-out female Taite fan gushing "I heard colors...colors!" was enough to invite comparisons to Bruce Springsteen's 1975 career-jinxing baptism by media overkill.
But when Newsweek's anonymous correspondent opined that Taite's concerts were "spiritual sound and light shows" and that "she wields a guitar like an unearthly, strutting harlot," it was enough to send even the most curious observer running-- in the opposite direction.
Still, those who did venture forth despite the deadly hype were treated to a live presentation that was, indeed, a revelation to all who thirsted for an oasis amidst the then-current derivative musical wasteland. Taite's unabashed onstage antics veered from those of a lurking, frothing Neanderthal to what can almost be described as intellectual coquettishness. Her physicality notwithstanding, the transcendent spirit of Taite's music rarely failed to hypnotize audiences.
Onstage Guests
Encores were brief; usually consisting of one song. On certain occasions, Taite would be joined during the encore by other artists, for whom Taite concerts became near-pilgrimages. Melissa Etheridge, Michael Stipe, Johnny Cash and Sam Phillips each linked up for a handful of dates on the spite tour. As a 1993 Minneapolis gig was drawing to a close, The Artist Formerly Known As You-Know-Who vaulted to the stage, joining Karla in a spirited version of "Cake," a Taite concert-closer often compared to His Purpleness' "Peach."
After a mysterious 15-month layoff during which Taite was romantically linked to the son (and daughter!) of Wisconsin's governor, she burst back into the public arena with the stunning autobiographical montage, tremble. To those who had only recently grown fond of spite's idiosyncratic brilliance, tremble was as much a taunting dare to her growing cadre of followers as a musical masterpiece.
Sonic Sucker Punch
On tremble, Taite abandoned the musical trappings of her new-found commercial success and delivered a stark, searing, sonic sucker punch. Drenched in angry, erotic overtones, the songs brilliantly reflected the kaleidoscope of forces and emotions that had shaped her life. Most critics knew something powerful was occurring with Taite's music, but few were pleased. Even Newsweek wondered if she had "lost her way." Musician's J. D. Considine suggested that we "check back on this record in five years. Maybe then we'll know what the **** it was really about."
And so, unsure of the audience's response but confident in her own metamorphosis, Taite hit the road early this year, sticking to venues a size or two smaller than those of the last time around. Her band was led by old Madison crony Brett Stilts on organ, abetted by a new percussionist, a bassist/oboist, an androgynous guitarist/violinist from Nepal, and Taite on guitar, keyboards and percussion.
Crying Crowd
At the debut tremble concert in Dublin, audience reaction built steadily from polite applause to unbridled adoration, occasionally punctuated by periods of hushed reverence. During the prophetic "Too Far, Too Fast," backed only by a solo violin and finger cymbals, Taite provoked audible weeping from members of the crowd.
Whether her fans actually desire an emotional steam-cleaning, and whether Taite can sustain a career providing such services, remain to be seen. Perhaps we should take a pro's advice and make a note to check back in on Karla Taite five years from now. But the odds are we'll have to wait another five years to understand what she's up to then.