Undies But Goodies...
Contents ©2000 Obvious Moose and may not be reproduced without permission.
| | | |
| --- | --- | --- |
| Here, the lovely Frieda wears undergarments of French origin, purchased in Rome and shipped immediately via air mail to our model by Charles Thomas of Hillsborough, NC. Frieda says it's always a pleasure to sample and hold foreign goods. Thanks and a snap of the F&G garter to Chuck for giving Frieda ample reason to "slip into something more comfortable"! | | Guido squealed with delight as he unwrapped these puppies, contributed by Anonymous of Carmel, CA. This pair of genuine Speedo brand racing style underpants must have set Ann back a pretty penny, but the investment is repaid in full by Guido's strutting mastery of the garment. Good God, y'all! Built for speed, indeed! |
---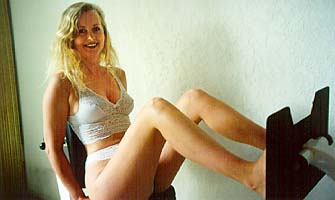 Tightly caressed by a Danish stretch lace bustier, Frieda makes us all long for the days of the Skandivunium Karniffal dj Unterkarrmnts, or Scandinavian Underwear Festival. Held in Stockholm in early January, it's not unusual to see similarly underclad lovelies flouncing about the city running routine errands or soliciting votes. Many towns and villages sponsor their own delightful entries and often reserve humiliating punishments for those who return home eiunfrtuud, or empty-handed. Undoubtedly, Brad Winger of Lansing, MI feels as we do, that our Frieda would have no problem capturing the midokkrre, or in English, the coveted Second Prize! (Frieda is sporting non-interactive panties for decency's sake).
---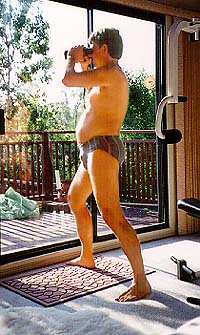 The mere thought of "Guido in a speedo" seems to drive half of our Interactive Underwear readers into a cyber-tizzy. So, thanks to the nice package sent to us by Norratsville, NH's Gail Palmer, we're all able to enjoy another nice package-- the G-Man, adorned in a striped, synthetic cotton faux-Speedo. For a breathtaking earlier glimpse of the Big G in a Little S, check out the his photo above. Clearly, here is a man in peak form who knows it; a man who isn't shy about teasing just a teensy bit. Have mercy, Guido! Have mercy on us all!

---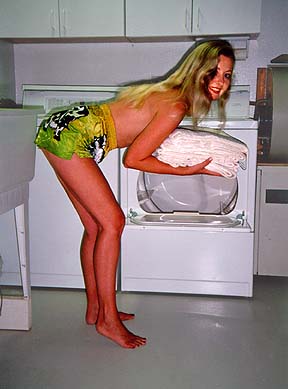 A short while ago, a pair of small, identical packages arrived at chez Frieda & Guidovia overnight courier; one was neatly addressed to Guido, the other to Frieda, who tore hers open first. Inside was nothing but the sweetest pair of day-glo green silk boxer shorts she had ever seen, adorned with tasteful bovine renderings. Although it was her day to do the laundry, lovely Frieda abandoned her chores long enough to gracefully slip on the near-holy garment. And it was as if by magic that the remainder of her tasks became one long, electric, blissful blur.
---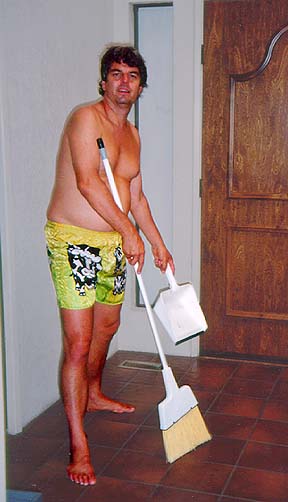 And what of Guido's package? As you might have predicted, it, too, contained an identical pair of underwear, which Guido donned in short order! From that special morning until this day, the very definition of "domestic bliss" has been beholding F&G happily executing their household chores clad only in their silky-smooth, lucky cow underpants. Now, can anyone attempt to improve upon this exalted gift? Frieda & Guido most fervently hope so and invite you to try by reading onward!

---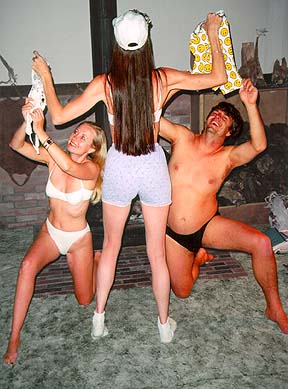 One cloudy day not long ago, our IU camera caught Frieda and Guido sulking about the house in standard-issue domestic underthings; our heroes were feeling very standard, indeed, and it seemed as if nothing could raise their spirits. Just then, a surprise knock on the door revealed Aunt Winnie, freshly arrived on bicycle from Rio De Janeiro! (Those who are lucky enough to know Winnie revere her for her impeccable timing and extravagant gifts.) And what delectable surprises did she bring to tantalize our friends? No disappointments here-- Winnie teasingly dangled the latest fashions in Brazilian undergarments, lovingly crafted from exotic fabrics by dark and calloused yet confident and expressive hands.

---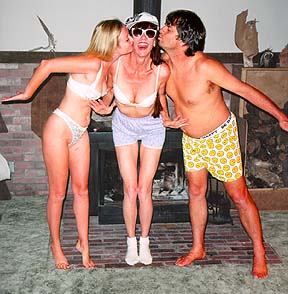 Once F&G had donned their new underaquisitions, they couldn't help but spontaneously express their appreciation to a giddy Winnie. Frieda was resplendent in her daring silk jungle panties and Save The Rain Forest Bra®, while Guido melted at the luxurious caress of his new white and yellow smiley face boxers, topped-off with a hyper-redundant "Be Happy" waistband (made from real rain forest cotton)! Winnie excitedly explained that F&G's cyber-fame stretches even to the land of the Carnival, where they are known as Os Demonicos por Roupa de Baixo, or "The Underwear Fiends." In fact, the very garments that now had them both twitching and writhing in ecstasy were purchased with the hard-earned collected reals of their newly formed Brazilian fan club!

---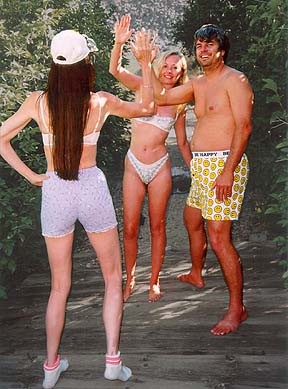 With the rental fee on Winnie's bicycle climbing faster than the bounty for an autographed pair of Guido's speedos, all three underwear aficionados soon knew it was time to break up their delicious late-afternoon soirre. Winnie's elegant, pedaling form gradually grew smaller as it headed southward and became entirely lost as she rounded the corner. Frieda and Guido reached for each other's hand and dreamily headed in for supper. Just then they heard a screech of automobile tires and the sickening sound of crushing metal. Frieda caught the twinkle in Guido's eye as he smiled warmly. "Sure hope she's okay," he offered, casually tying a large red dinner napkin around his neck. "God, these are cool shorts."

---
If You Can Spare It, They Can Wear It!
It's fun to be a part of Frieda & Guido's Interactive Underwear page! Just imagine what enticing underthings you'd like to see your favorite cyber-models slip into. All you need to do is pick up a couple of pairs at your local underwear emporium (hey, don't forget a pair or two for yourself) and send 'em to:
Frieda & Guido's Interactive Underwear
c/o Obvious Moose
P.O. Box 232623
Leucadia, CA 92023-2623 USA

Frieda's a 32 C with a size 4 panty, and Guido cuts quite a figure with his 34" waist. When pressured, Natasha will admit to being a 34 B and size 6 panty. Laszlo's a 36 medium kinda guy. (Psst! Here's a hint: Frieda, Guido, Natasha and Laszlo like their underwear NEW and CLEAN!) Don't forget to mention if you want to receive credit for your contribution to the Interactive Underwear page.
---
MooseMart (A quaint online Obvious Moosendise emporium)
---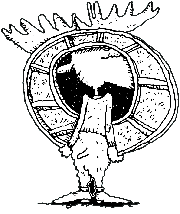 Back to Obvious Moose.