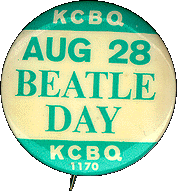 The Beatles Play San Diego
Saturday, August 28, 1965. The Beatles motor down to the now-demolished Balboa Stadium in San Diego from their rented digs in L.A. They conduct a brief press conference, surrender to a civic ceremony or two, and perform (by most accounts) a fairly unremarkable show.
Immediately afterward, they head up the road. The next day, they meet with their idol, Elvis Presley.
Newspaper Photos
Courtesy of the San Diego Historical Society.
Newspaper Clippings
Courtesy of the San Diego Union-Tribune.
Susan Barron's Photos
A remarkable series of previously unpublished snapshots.
Lee Louis' TV News Film
The veteran San Diego TV news cameraman captured much of the event, excerpted here in a 24-second, 2.9 MB QuickTime movie (.mov).
---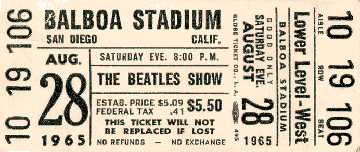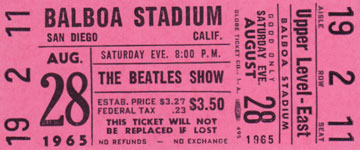 Thanks to all who kindly made this non-profit site possible: Eyewitness Susan Barron, who graciously (and patiently) provided all the color photos she had taken that day, along with her ticket stub and "Beatle Day" button; KGTV Chief Photographer Lee Louis, who smuggled his 16mm rig into the San Diego show and had no reason other than pure generosity to share the results; the San Diego Historical Society, the San Diego Union-Tribune, Jerry G. Bishop, and the Don DeWolf estate.

Contents © 1994 - 2007 Obvious Moose (except where noted) and may not be reproduced without permission. All rights reserved.

---
Back to
The Obvious Moose Beatles Page